Some exciting news around my house is that some friends are having their first baby. And while it is much too early to share their fantastic news..I was feeling inspired. I'm so excited to have this new little baby in our life. I cried when I was told and I've cried more than once since.
I picked a camping theme which I think fits my favorite outdoorsy couple...I loved doing this little boys nursery so much...and since we don't know the gender why not do a girl version (a lot more challenging for me)...check back tomorrow for that one!
Here are the basics:
I love the green touches, but I think orange would have looked really good too. I think any bold fun colors would look great as accents...yellow and red would be my choice.
I also love finding things for the walls: I'm a big fan of gallery walls even though the execution of hanging each piece is terrifying! Here are babys walls:
Most items are from Etsy!
Yes, I would put the gallery wall over the crib and I did it my own home. Not everything has to be glass and heavy (those are felt arrows!)! A few extra nails and screws and you should be safe. The Chicago print is not the actual city I would use for this couple, but I didn't want to use their real city..which is available in these great colors! Those field guides were my favorite.
On the changing table (& dresser in one!) wall shelves I would probably put some old tins to hold q tips and diaper cream and some fun family pics. I couldn't resist adding an animal head, plus I think it is tall enough to balance out the height of the shelves beside it.
Every room needs a bookshelf and I would not only include books about Tom Sawyer, Huck Finn and Swiss Family Robinson, some more family pics (mom is quite the photographer), but also an iPod dock...I know, so 2014...but the iPod can play lullabies or white noise..but let's face it, with a newborn it's nice to know how often you are feeding that ferocious little bear with a clock (I know some people disagree). I like this one from
Houzz
. Kind of retro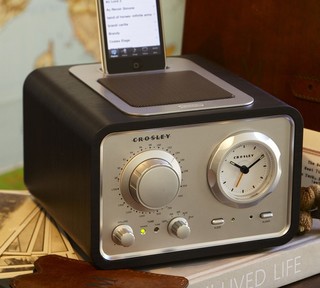 And since I'm a clothing girl, I couldn't resist hanging a few pieces in his virtual closet....
My friends did not give me any direction it was purely what I thought of when I thought of their baby. That being said, this little nursery will more than likely not have any finished project pics, but whatever they choose will be fantastic I know!